Rita1652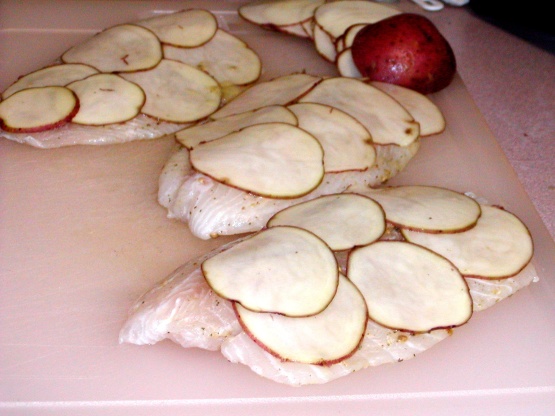 The fish is crusted with thinly sliced crisp potatoes. Use a mandolin to get the potatoes paper thin.

I followed the recipe exactly--and then I did one other thing--I deglazed the pan with a little white wine which made just a bit of sauce. And, because my fish was rather thin, I par-boiled the mandoline-sliced potatoes for just a moment. Absolutely delicious!
2.46

ml dried basil

1.23

ml paprika

1.23

ml garlic salt

1.23

ml pepper

453.59

g catfish (3 filets) or 453.59 g tilapia fillet, washed and dried (3 filets)

1

small egg, lightly beaten

1

large red potatoes, sliced into 1/8 inch rounds so you can almost see th them

9.85-14.78

ml butter, plus

9.85-14.78

ml olive oil, to cover bottom of pan

1

lemon, juice of

1

lemon, sliced (to garnish)
Mix basil, paprika, garlic salt, pepper and rub into filets.
Brush fish with egg then place 6 slices of potato to cover fish.
Heat oil and butter in pan.
Gentle place potato side down in hot pan and do not move.
Place on top side six more slices of potato.
Cook till you see the edges are browning and the filtes move easily about 4-5 minutes.
Ever so carefully flip fish away from you.
Trying to keep the potatoes in place.
Fry for 4 more minutes.
Drain on paper towel.
Serve hot seasoned with salt,lemon juice and garnish with lemon slices.
OPTIONAL --
Pan fry the one side then place the oven proof pan under the broiler to finish cooking and browning the top side.
So you don`t have to flip.
Just keep an eye not to burn it.