Red Pepper & Red Onion Bread (Abm / Machine)
Ethan UK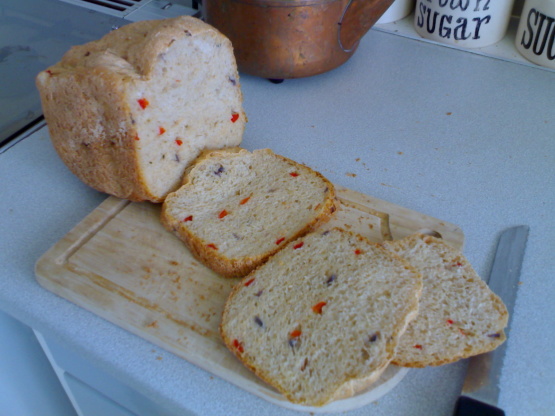 There are lots of pepper /onion bread recipes. This uses fresh peppers and onion. It's very nice with cooked meats, cheese & tomato, tuna or salmon maybe with a bit of lettuce or salad. The smell whilst baking is out of this world! Oh, btw, it looks gorgeous too! (I suppose that you could replace half a tsp of the water for red food colouring, call it 'Red Bread'! and have it with sandwiches prepared for Halloween - :)

I especially loved that you provided a translation for most of the metric measurements in your recipe. Thank you!! I used my ABM through the dough cycle and then baked in a 350 degree oven. I was very happy with the colorful bread. The texture was nice, perfect for sandwiches, and it tasted great. Reviewed for My Three Chefs 2007.
Place bread machine pan on electronic scales and weigh in / add the ingredients. (280ml water weighs 280g).
Replace pan in bread machine and start on suitable cycle - I favour the wholemeal cycle with a dark crust as it has the longest rise time but still has a beep for adding ingredients plus I like my bread to be crusty. Machines vary but the raisin bread setting should also be fine.
Whilst the machine is kneading, chop and prepare the red pepper & red onion into a small bowl and season to taste with a little fresh ground black pepper, a very generous dash of dried (or fresh) garlic (possibly some basil/oregano if you fancy it herby, and paprika if you *really* love it spicy!).
Add the pepper & onion a bit at a time during the last five minutes of the final knead (my machine does its beep five minutes before the end of the final (second) knead) as there is a lot of liquid in these fresh ingredients and if you add them all at once it would make the dough rather too wet. Basically add about half of them at the beep and the other half a few minutes later.
Enjoy!
(Time listed includes total kneading, rising & baking time).