Pamela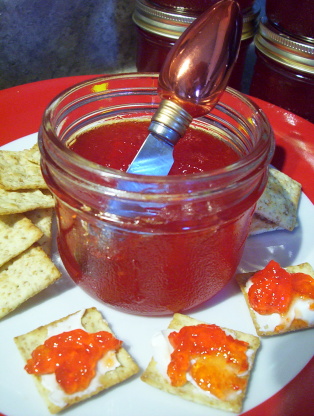 I came across this on the internet(don't remember which site). This is delicious served on top of a softened block of cream cheese and eaten with cracker.
This recipe is delicious. It calls for bottle pectin, I used one pouch certo liquid pectin. As suggested, I also added 1/4 tsp cayenne pepper, you could use more. This has become my favorite for pepper jelly and it's so easy. For some reason, I got more jars than the recipe called for. A bonus.
Place red peppers, sugar and vinegar in kettle; heat rapidly to boiling, stirring continuously.
Remove from heat, let stand 15 minutes.
Reheat to boiling, add lemon juice.
Let it come to a boil, then add the pectin.
Boil for 5 minutes, stirring constantly.
Bottle as any jelly.