Red Pepper, Egg and Provolone Panini
GaylaJ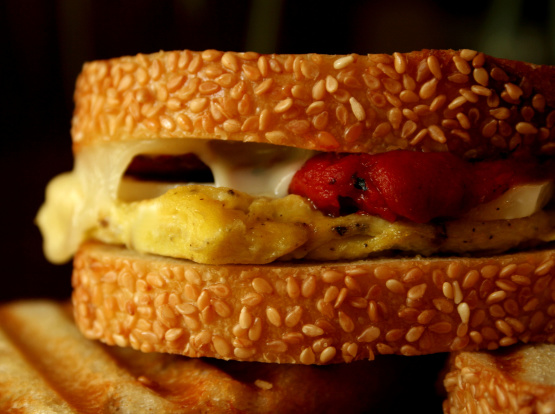 Yummy! This recipe was adapted from one published in Relish magazine, which comes as an insert in our local newspaper. Their suggestion of adding sautéed or grilled red onion slices for variety sounds good, too.
Preheat panini grill or stove-top griddle pan (see note below).
In a small bowl, beat eggs, oregano, salt, and pepper with a fork.
Heat a nonstick skillet over medium-high heat; add egg mixture.
Cook, lifting the edges with a fork, until set (2 to 3 minutes).
Divide eggs, peppers and cheeses between 2 slices of bread (I really just eyeballed most of the ingredients); top with remaining bread slices and brush outsides lightly with oil.
Place on panini grill or griddle and cover with grill top or grill press; grill until golden and cheese starts to melt (2 to 3 minutes per side).
Note: I just use a Foreman grill to make panini--I was given the grill several years ago as a gift and can't say I use it for anything else, but it does make great sandwiches :).