Debbwl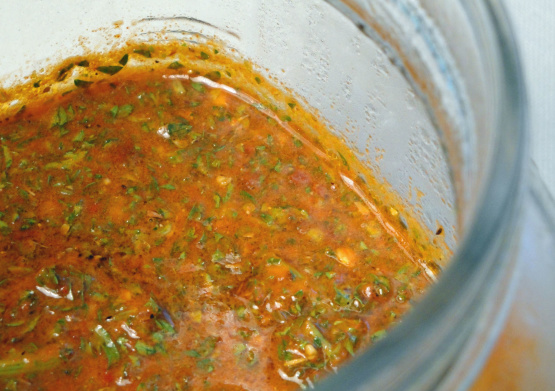 A chimichurri recipe that is a bit different form the usual green sauce. Put this on anything needing a bit of oomph- grilled meats, vegetables, sandwiches, scrambled eggs, really just about anything. Cooking time is time in the fridge, letting the flavors blend.

Top Review by Debbwl
Oh Ingrid I am so sorry but we just did not like this. I thought it would be a winner given we like all the ingredients and sounded like a good combo. I did make this as written and felt the paprika was way to strong and DH thought both the paprika and crushed pepper flakes were too strong we both felt it over powered our chicken. Thanks for the post.
Whisk together the kosher salt and warm water until the salt dissolves, set aside and allow to cool to room temperature.
Combine the flat leaf parsley, garlic, and olive oil in the bowl of a food processor, and pulse several times to chop up the parsley. Add the roasted red peppers, paprika, oregano, crushed red pepper, black pepper, cumin, white vinegar, and red wine vinegar. Continue to pulse the food processor until the ingredients are well combined, but still chunky.
Transfer the sauce into a large mixing bowl, and slowly stir in the cooled salt water mixture. Cover and refrigerate for 2 hours to allow the flavors to blend. Sauce can be kept refrigerated in an airtight container for 2 weeks.