BB2011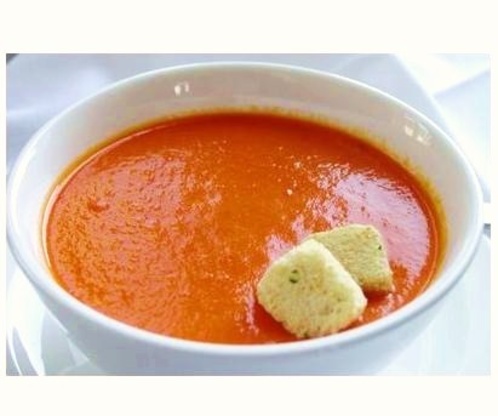 From Vegetarian Times February 2010. This soup boasts a smooth texture and a deep, rich flavor that comes from slow-roasting bell peppers. It's also high in beta-carotene and lycopene, two antioxidants that may help prevent cardiovascular disease. Nutrition facts: 101 cal, 2g protein, 5g fat, 14g carb, 0mg cholesterol, 418mg sodium, 2.5g fiber, 6g sugar.

I made just a couple of changes to this soup based on some comments I read on a different site that had this recipe. I used vegetable broth in place of water and only 3 cups instead of 4. I also added more curry powder than called for.<br/>This was a nice thick rich soup and tasted even better when I drizzled a little olive oil on my serving. <br/>Very nice, I would recommend this recipe.
Preheat oven to 350°F Place bell peppers on baking sheet, and roast 1 hour, or until skin is wrinkled and blackened all over, turning peppers occasionally with tongs. Transfer to bowl, and cover with plastic wrap 10 minutes to steam. When peppers are cool enough to handle, rub off blackened peel, and remove seeds.
Heat oil in 2-qt saucepan over medium heat. Add curry powder and bay leaf, and stir 10 seconds. Add onion, carrots, garlic, and salt. Cover, and cook 10 minutes, or until onion is translucent.
Add 4 cups water, and bring to a boil. Reduce heat to medium-low, and simmer, covered, 25 minutes.
Transfer carrot mixture to blender, add bell peppers, and puree until smooth. Stir in lemon juice. Garnish servings with bell pepper slices, if using.