Red Pepper Asiago Gougere' Cheese Bites
awalde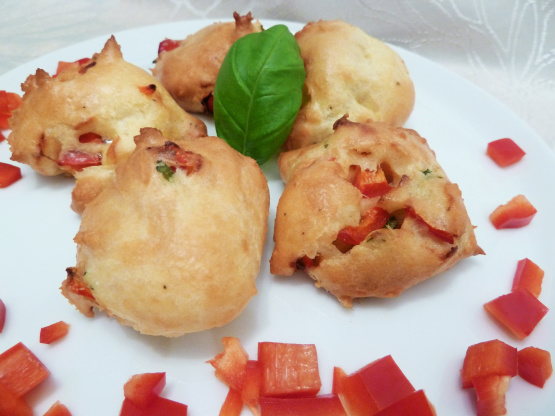 These are cheesy and savory puff pastry bites. Recipe from Land O Lakes.

Top Review by awalde
As I saw this recipe I could not resist and I had to try it!
Really delicious finger food!
I took the parmesan option and I followed the recipe as it was.
The bites were crispy outside and soft inside.
I will serve this as apero for our guests!
Thanks for this recipe
Heat oven to 400 degrees F; line baking sheet with parchment paper; set aside.
Place water and butter in heavy 2-quart saucepan.
Cook over medium heat until mixture comes to a full boil (6-8 minutes).
Reduce heat to low; stir in flour and garlic salt vigorously until mixture leaves sides of pan and forms a ball.
Remove from heat.
Add 1 egg at a time, beating well after each addition, until mixture is smooth.
Stir in 1 cup cheese, bell pepper and basil.
Immediately drop by rounded teaspoonfuls onto prepared baking sheets.
Sprinkle each with 1/4 t remaining cheese.
Bake for 20-22 minutes or until golden brown.
Serve warm.