Red Pepper and Garlic Dip for Vegetables
Margie99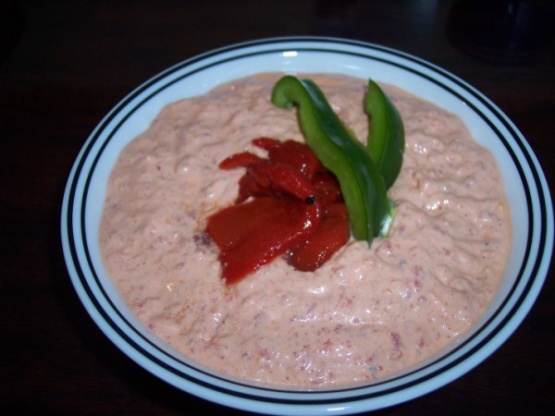 This is a perfect dip to accompany fresh vegetables. Light and oh so garlicky! Make it spicy or not so spicy -- either way it is delicious.

I liked this but I hesitate to say that it was too garlicky and I never say that. I doubled it and I drained the roasted red peppers but I think I should have patted them dry because my dip was runny. I didn't use all the full amount of cayenne cause we are wimps.
With a food processor running, drop the garlic through the feed tube and mince. Scrape down sides of bowl.
Add roasted pepper, vinegar and cayenne and process until mixture is almost smooth.
Add 1/4 cup of the mayonnaise and process using on/off turns until combined.
Scoop mixture into a small bowl.
Mix in remaining 1/4 cup mayonnaise.
Season to taste with salt and pepper.
Cover and refrigerate at least 30 minutes.
Put dip in center of a serving platter and surround with assorted fresh vegetables.
Scoop! Enjoy!