Bev I Am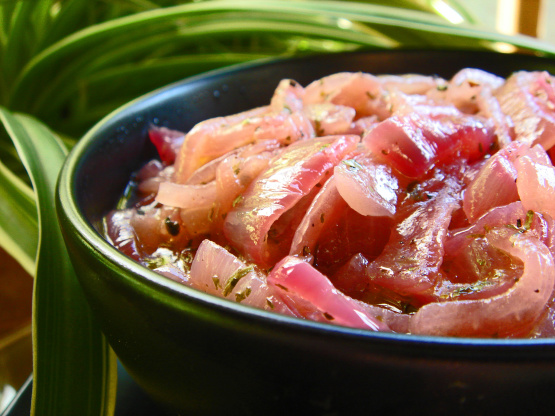 This is from Bon Appetit magazine. Goes great with grilled meats.

Made as written for the Quest 2014, I foresee this tasty little recipe having several creative uses. We're in avocado heaven here right now & they were a fine add to avocado chunks for a simple, but tasty side-salad w/complimentary flavors. I think they would do equally well adding flavor to pasta & other salads to give them a MOJO ingredient, so to speak. Thx for sharing this recipe w/us Agent Ev.
Heat oil in heavy large skillet over medium-high heat. Add onions and sauté until tender and translucent but not brown, about 10 minutes. (Can be prepared 2 hours ahead. Let stand at room temperature. Rewarm over medium heat before continuing.).
Add lime juice to onions and simmer until liquid is slightly reduced, about 3 minutes. Season to taste with salt and pepper. Remove onions from heat. Stir in cilantro leaves.