K9 Owned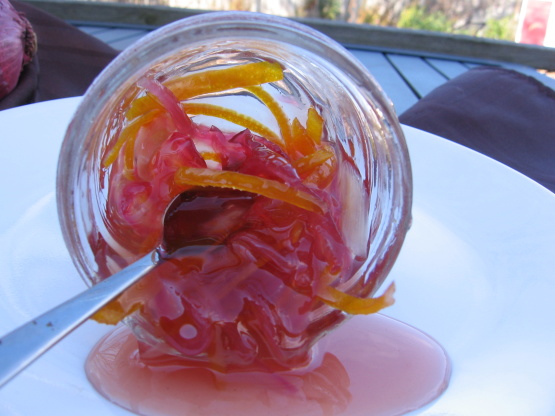 A jar will make a wonderful addition to a food basket. On the gift tag, suggest serving this savoury marmalade with meats, such as pork, lamb or beef. Or serve with crackers and a creamy cheese.

I have never made jam or preserves of any kind and was very impressed at how easy it was! I packed it in small (125mg) jars as there are only two of us. I made this yesterday afternoon and will start on the second jar today! :) Fabulous with cheese and crackers!

Thank you for posting Elly!
With vegetable peeler, peel rind from orange in long strips.
Scrape off white pith from rind; slice rind lengthwise into paper-thin strips. Set aside.
In large saucepan, bring orange strips, sugar, onion, vinegar and salt to boil; boil for 1 minute. Stir in liquid pectin, mixing well. Remove from heat.
Using tongs, divide onion and orange rind among three 1-cup (250 mL) hot canning jars. Pour in liquid, leaving 1/4-inch (5 mm) headspace. Cover with prepared lids; screw on bands fingertip tight.
Boil in boiling water canner for 10 minutes. Let jars stand on rack until cool.
Check that lids curve downward; refrigerate any that do not and use within 3 weeks. Store in cool dark place for up to 1 year.
Variation:.
Pepper and Red Onion Marmalade: Add 1/2 tsp (2 mL) coarsely ground black pepper or hot red pepper flakes.