Ms B.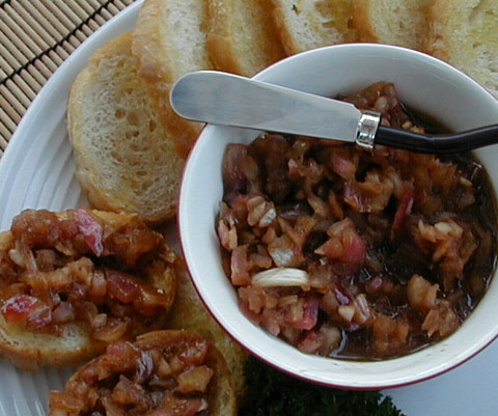 Got this from a friend and it was a big hit on newyears eve!! I don't like onions much, but can eat this all by myself if left unchecked!

This just keeps getting better with time! I made this to accompany http://www.food.com/recipe/pigs-in-a-blanket-25198/ recipe for Christmas dinner appetizer along with Spicy Honey BBQ sauce. It actually was so well liked that it went to the dinner table to be used as condiment on the roast beef entree we had. I baked it in a shallow pan following the suggested time/temp of "Cookiedog" below. This made a lot more than I needed, so I placed what I had leftover in a jar with a lid in the fridge. Just had some spread on a turkey, cheese & spinach wrap....delish! Thanks for the post :P
preheat oven to 350.
mix all ingredients.
put in small baking dish.
bake at 350 for 20 minutes.
increase oven temp to 420.
bake for an additional 15-20 minutes.
I put this on top of baguette slices that I have lightly toasted in the oven with olive oil baste.