Red Onion and Honey Mustard Barbecued Chicken
Karabea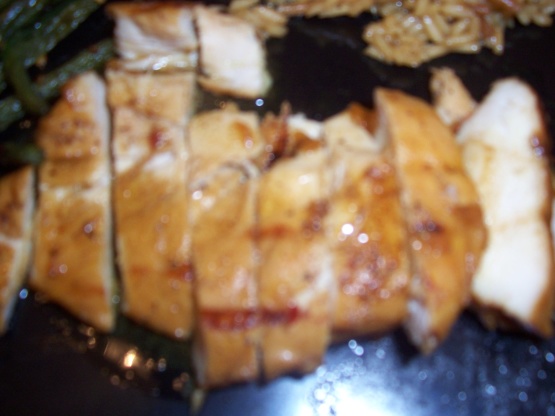 This will dazzle your taste buds! From 30 Minute Meals. Mustard type barbecue sauces were brought over from England to the Southern states.

Top Review by nochlo
Made for PRMR! I enjoyed making this meal. It smelled so good as I cooked it. I really loved that it had red onions as I am an onion lover. This will be a keeper. Thanks
Preheat grill pan or griddle over medium high heat, or you may use broiler.
Pour 2 tablespoons vegetable oil into a small saucepan over moderate heat.
Add red onions and saute 3 to 5 minutes.
Add vinegar and reduce by half, 1 to 2 minutes.
Add brown sugar and cook about 1 minute to incorporate.
Whisk in broth and honey mustard, allspice and curry.
Bring sauce to a bubble and reduce heat to lowest setting.
Cover chicken with a drizzle of oil and salt and pepper, to your taste.
Place chicken on hot grill (or put in broiler) and cook 4 or 5 minutes, then turn.
Baste chicken liberally with sauce and cook another 5 minutes.
Turn once again and baste.
Cook 2 or 3 minutes more to cook through and transfer chicken to a platter and serve.