Had one of these the other night...Yum! Straight from the Red Lobster website. We like ours straight up, but you can whirl it with ice cubes if you like your 'rita frozen.
Directions
Combine sugar and water in a pitcher and stir until dissolved.
Add fruit juices.
Mix in liquors and stir well.
Keep refrigerated until ready to serve.
Most Helpful
These were a little too sweet for us but still a very tasty & refreshing treat on a hot day. Next time I will use 1/3 to 1/2 cup of sugar rather than a full cup as the triple sec adds a lot of sweetness as well. Great recipe for drinks for a group!

Excellent margaritas! This is the flavor profile that I love in a good margarita. I halved the recipe for 3 people and we had plenty for seconds (plus a little more). The only change I made was to add a bit more fresh orange juice. Delicious served with crushed ice and a salted rim!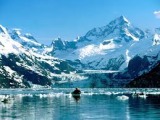 Ahhhhh....sitting on the deck, watching the sun set over the lake and enjoying this wonderful margarita. A great way for using up fresh lemons, limes and orange juice. Molly, this is a great margarita and thanks for sharing.