Red Lobster Crab Stuffed Mushrooms
Tasha K.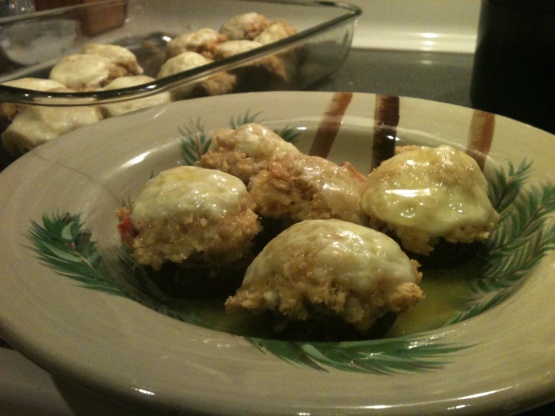 Posted in reply to a request.

I love this dish!! It is a great appetizer and feeds up to 5 people comfortably. The recipe calls for crab meat so I used the canned crab meat. (You can find this next to the Tuna.) When I first made them they were really good, but they were a little dry. So I melted some butter and basted the tops after they came out of the oven. And they turned out perfect!! The second time I made them I used a lot of butter while I sauteed the veggies. The recipe also calls for two cups of oyster crackers, but instead I used a cup and a half. This really balanced the recipe out more. So when I pulled them out of the oven they were really soft and moist, and delicious!! I will definitely be using this recipe again!!
Preheat oven to 400deg F.
Wash mushrooms and remove stems.
Set caps aside, and chop half of the stems.
Saute chopped mushroom stems,celery, onion and pepper in butter for 2 minutes.
Transfer to a plate and cool in refrigerator.
Combine sauteed vegetables and all other ingredients (except cheese slices) and mix well.
Place mushroom caps in a sprayed or buttered baking pan stem side up.
Spoon 1 tsp stuffing into each mushroom cap.
Cover with a piece of sliced cheese.
Bake for 12-15 minutes until cheese is lightly brown.