Red Lobster - Cheddar Bay Biscuits (Clone)
alligirl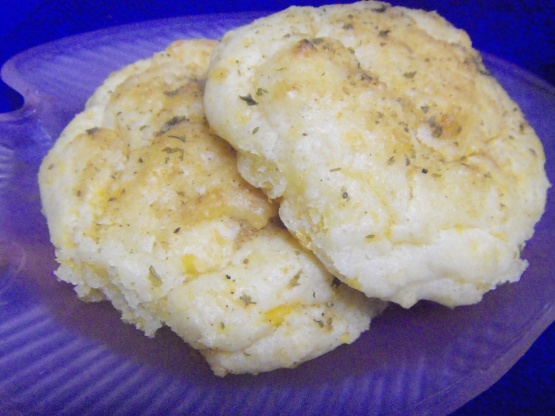 After hearing such rave reviews from all my friends about how much they adore these biscuits I knew I had to come up with the best version possible I could easily make at home anytime. I did a lot of research and compared a lot of recipes already available online and after my own kitchen trials have come up with a final result I am very proud of and would love to share with everyone.

Sorry, but for me, these were not very good. I reduced the recipe by half, and the amount of Old Bay by half, again. I had to add between 1/4 and 1/2 cup extra of bisquick, as mine were very soupy. I still didn't add enough. They turned out kinda flat. (I even went back to check the date on my bisquick - it was fresh.) The taste was OK. I'm sorry that they didn't turn out for me...Thanks for sharing, Pauline Piraino.
Preheat oven to 375°F.
In a large bowl, mix together the Bisquick, garlic powder and Old Bay Seasoning. Stir in the shredded cheddar cheese. With a fork or pastry blender, cut in the cold salted butter until well incorporated and looks like coarse crumbs. Add milk and mix well. Spray baking sheets lightly with cooking spray. Using an ice cream scooper or large spoon, scoop out portions of dough at least 2 inches apart on the lightly greased baking sheet. Bake for 10-12 minutes.
In the meantime prepare the topping. Using a microwave safe container, melt the unsalted butter together with the dried parsley flakes, Old Bay Seasoning and seasoned garlic salt on high power for about a minute, depending on your microwave.
Remove biscuits from oven and, using a pastry brush, coat the surface of the biscuits with some of the melted butter mixture. Return to oven to bake another 6-7 minutes. Remove from oven and brush with more of the melted butter mixture. Remove biscuits from pan to cooling wrack to cool slightly before serving or cool completely and store in airtight container in fridge.