alligirl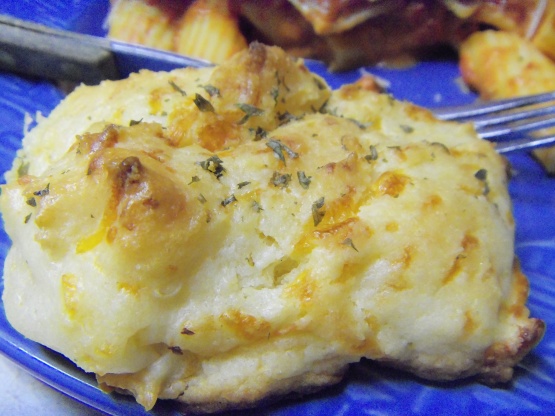 My mom sent me this recipe and it really works! I just tried it, and the biscuits were perfect! Some silly people at this website insist that I stole this recipe from them, but I stand by the fact that I have never heard of this group/chef/whatever. This recipe was handed down to me through a bunch of people, but I also don't want to get sued. I think it's silly, but here's the silly link: www.TopSecretRecipes.com

We thoroughly enjoyed this take on RL's cheddar bay biscuits. I appreciate the fact that the addition of the softened butter to the batter made the biscuits just a little 'softer.' These things are sponges and soaked up all the glaze! Perfect! Thanks for sharing a great copycat recipe, Larkin. Made for PAC Fall '12.
Preheat oven to 400 degrees.
Combine biscuit ingredients in a large bowl and mix well, but not too well (chunks are OK).
Mixing may require a bit of kneading.
Roll about 1/4 cup of dough to make potential biscuits and place them on a non-greased, non-stick cookie sheet (there should be 12).
Make sure that they are well-spaced.
Place biscuits in the oven for 15-17 minutes.
While the biscuits are in the oven, combine glaze ingredients. Melt the butter at 15 second intervals until it is melted.
Remove the biscuits from the oven when they are golden brown.
Pour or brush the glaze onto the biscuits.
Enjoy!