Red Lentil Soup With Lemon
Katzen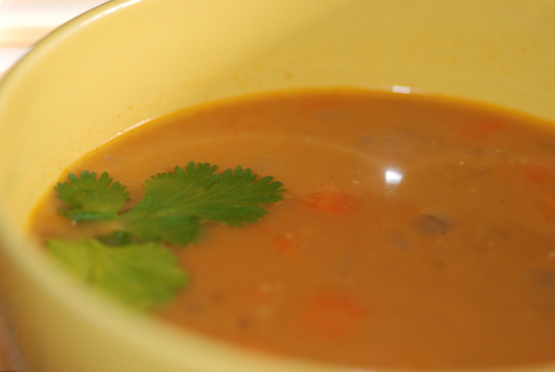 Quick and easy - very tasty payoff for minimal preparation. I've made this soup numerous times and even my kids love it! It was adapted from The New York Times and presented as "Recipe of the Week" in the news magazine The Week. The best part about this recipe is I've never had to adjust the seasonings (although you might want to reduce the cayenne if your family is sensitive to spicy food). Enjoy!

Great soup! I'm a big fan of red lentils in general, so I like to try as many recipes with them as I can find. I thought that the bright flavor of the lemon juice was a nice contrast with the earthiness of the lentils. I did increase the cayenne by quite a bit (I didn't measure, but it was probably between 1/2 - 1 teaspoon -- we like it HOT around here!) Other than that, didn't change a thing. I'm glad it made a nice big pot so I can take it in my lunch later this week. Thanks for sharing!
In a large pot, heat oil over high heat until hot
Add onion and garlic and saute until golden, about 4 minutes.
Stir in tomato paste, cumin, salt, pepper and chili powder or cayenne pepper, saute 2 more minutes
Add broth, water, lentils, and carrots.
Bring to a simmer, partially cover pot
Simmer at medium-low until lentils are soft, about 30 minutes.
Puree half the soup using an immersion or regular blender and then add it back to the pot. The soup will not be completely smooth.
Stir in lemon juice and cilantro, reheat if necessary before serving.