Boomette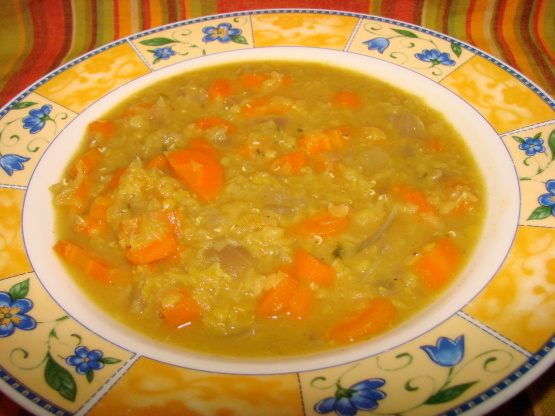 I used red lentils for the first time in a recipe I tagged in one of the games and loved them. So I started looking around for other recipes. I found quite a few recipes, and inspired by them, created this soup, using ingredients that I normally have at home. While this is probably 4 servings' worth, I find we generally get only two, as we really love soup!

Found this recipe to use on my detox cleanse. And love it-now my go to lentil soup recipe. Slight modifications I made were to decrease broth to 4 cups ( I like a thicker soup) and I used a yellow onion instead of red. I found my blending and let sit overnight the flavors improved as did the thickness. Loved the lemon-- really made the flavors zing. Suggest not to leave it out.
Heat the oil in a saucepan. Add the ginger and heat, stirring, for about a minute. Add the ground cumin and stir another 30 seconds.
Add the onion and carrots and cook for about 5 minutes over medium heat, stirring frequently.
Add the lentils and broth. Bring to a boil, reduce heat and simmer for about 20 minutes, until the lentils are soft.
Remove from heat and puree with an immersion blender (or in batches in a blender or food processor). Add salt and pepper to taste, although I usually do not add any.
Add a squeeze of lemon in each serving, if you wish - I find that it adds a bright note.
Note: A spoonful of plain yogurt is a nice addition.