Red Lentil and Chicken Soup - Indian Style
KateL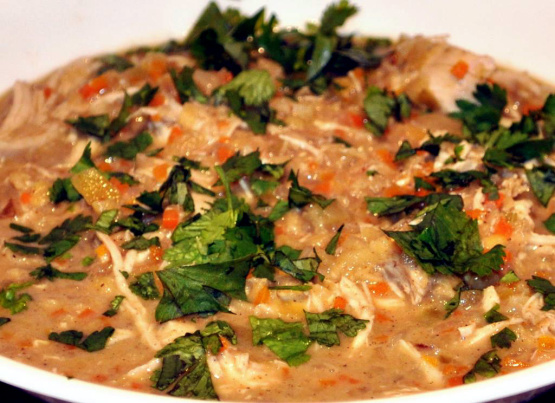 This recipe is an adaptation of one of Sara Moulton's. It's Indian-style soup made easy by the use of rotisserie chicken. Feel free to add your own combination of spices if you'd like more flavor!

I made a half recipe using double the spice amounts after reading the other reviews. I'm glad that I upped the spice as I liked it and could see that it would be less flavorful with the original amounts. Also must say that I didn't have the coconut milk that I thought I did. I don't think that the lack really hurt the soup and I really liked the ginger - garam masala combo. Also, the apple addition was quite nice.
Heat the vegetable oil in a fairly large pan, over high heat. Once hot, reduce the heat to about medium. Add 1 t garam masala and cook for about 1 minute. Then add the carrots, onion, apple and celery and cook, while stirring a bit, until the mixture has softened up, approximately 8 minutes.
Add the chicken stock, coconut milk, ginger and 1 t of the garam masala to the pan. Add the rinsed lentils and bring the soup to a boil (on high heat), then reduce the heat to low and simmer it for approximately 20 to 25 minutes. You just want to get the lentils nice and tender.
Add the chicken and the remaining 1 t garam masala to the soup and let it return it to a boil again. Serve. Optional to sprinkle the cilantro over the top of each bowl of soup.