Red Leaf Lettuce With Peach and Fresh Chevre
BarbryT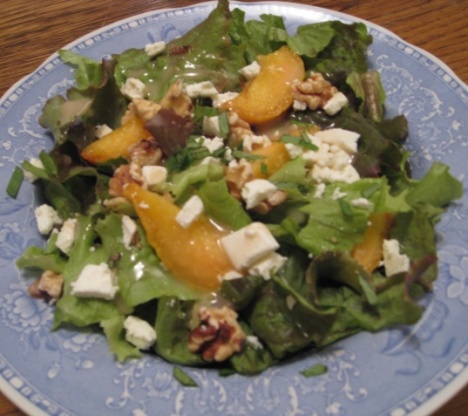 Tasty and pretty enough for guests. If you don't have raspberry vinegar use a little more balsamico, which has not as much acid. I use a nutty flavored oil, but I think a fruity olive oil should work, too.
In a small bowl pour boiling water over peach until completely covered, let sit 30-60 seconds, remove peach and cool in cold water. Peel skin and cut peach from pit in 8-12 wedges.
Wash lettuce and spin dry. Arrange on a flat serving platter. Arrange peach wedges on top.
Either cut or crumble chevre with your hands in 1/2 inch pieces over salad.
Sprinkle with walnuts and basil.
For dressing dissolve salt in vinegar, add other ingredients until well blended. Adjust acidity to your taste with a little more vinegar or a pinch of sugar.
Drizzle dressing over salad and serve immediately.