Red Jacket Mashed Potatoes
ImPat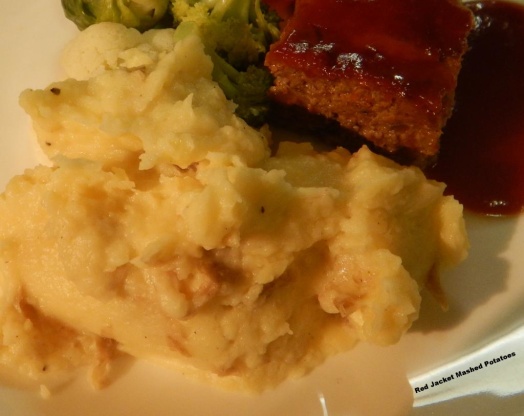 A few years ago, I asked Chef Raymond Reed from Stanley and Seaforts Restaurant in Tacoma, Washington for this recipe. I should have known that asking a chef for a recipe means it makes alot! The original recipe was for 15 pounds, but I finally scaled it down a bit. Since I don't make the huge 15 pounds, I don't bother with a paddle attachment either.

Top Review by ImPat
I scaled this back for 3 serves and used Carisma potatoes (a low gi potato) and as I do not have a paddle on my mixer and from past experience of trying to whip potatoes I have ended up with a gluggy mess so just mashed with a masher and followed through with the rest of the ingredients as per recipe mashing them well in and the result was a very tasty mashed that we all enjoyed. Thank you lazyme made for For You Consideration tag game at Food Friends and Fun Forum.
4 1⁄4 lbs red potatoes
1⁄2 cup sour cream

1

tablespoon steak seasoning
1 1⁄3 cups whipping cream

5

ounces butter
Wash potatoes to remove dirt.
Simmer potatoes in jackets until fully cooked, approximately 30 to 35 minutes. Drain the potatoes and place in a mixing bowl with a paddle attachment.
Meanwhile, melt the butter in a heavy gauged sauce pot over a medium heat. Add and blend in the whipping cream. Remove from the heat and reserve.
With the mixer on low speed, gradually add the butter-cream liquid to incorporate.
Add the sour cream and the steak seasoning. Whip potatoes on medium speed until mashed but some lumps remain. Do not overwhip potatoes.
Garnish with fresh chopped chives and serve.