Derf2440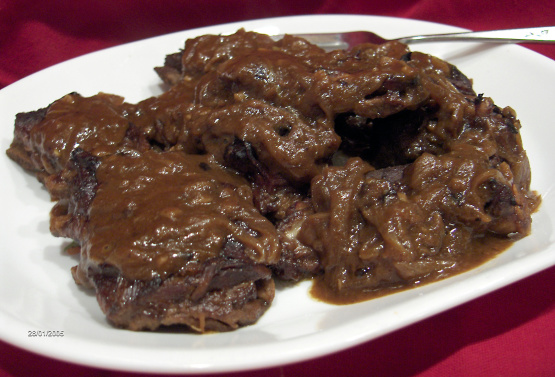 This is adapted from a short-ribs recipe by Sheila Lukins that I found in the Sunday newspaper supplement, "Parade". Since I'm not a big fan of beef ribs, I converted it to spareribs and adjusted the seasonings accordingly. Prep time does not include marinating time.

Absolutly lushious ribs!!!Actually was looking for a reicpe for lamb spare ribs, couldn't find one so used yours, fantastic choice!! I will use this method and especially the sauce with any kind of ribs we have.The taste and the timing are perfect, it all just comes together beautifully. I used balsamic vinegar and Nando's hot pepper sauce. Left them in the bag overnight. Served it with a nice cool romaine/orange salad for contrast and a baked potato. Great dinner, thanks for sharing we will definately be making them again!!!
2

racks of baby-back pork ribs, rinsed,patted dry,and cut into 2 rib pieces
salt & freshly ground black pepper
Lawry's Seasoned Salt
Worcestershire sauce, and
extra virgin olive oil, for rubbing ribs

29.58-44.37

ml extra virgin olive oil, as needed

2

large onions, slivered lengthwise (3-4 cups)

29.58

ml minced garlic, more to taste

59.14

ml Dijon mustard

59.14

ml fresh lemon juice, more to taste
cider vinegar or balsamic vinegar, to adjust sauce tartness

29.58

ml Worcestershire sauce

14.79-29.58

ml hot sauce (preferably Sriracha oriental hot sauce or Cholula Mexican hot sauce, or to taste)

9.85-14.78

ml chili powder

14.79

ml brown sugar

411.06

g can beef broth
Generously season rib pieces on all sides with seasoned salt, granulated garlic, and salt and pepper to taste, and rub with Worcestershire sauce and then with olive oil.
Seal into a Ziploc plastic bag, and marinate in refrigerator at least overnight and preferably 2 nights, turning and kneading regularly.
Spray a 9"x13"x2" (or larger) casserole with nonstick spray, and preheat oven to 425 degrees F.
Heat olive oil in a large skillet over medium-high heat, brown ribs well on all sides.
Drain them, transfer them to the casserole meaty side down, and set them aside.
Drain excess fat from pan or add more olive oil as needed to total about 2 Tbsp.
Reduce heat to medium, and add sliced onions.
Stir to coat with oil, and saute until onions begin to soften.
Add minced garlic, and continue to saute for another 3-4 minutes.
While onions cook, combine all remaining ingredients in a medium bowl, and whisk until smooth, and adjust seasonings, lemon juice, and vinegar to taste.
Stir into the skillet with the onions, and continue cooking until the mixture boils.
Spread the onion mixture over the ribs, moving the ribs around so some goes underneath.
Cover with aluminum foil, place in the oven, and immediately reduce the oven temperature to 350 degrees F.
Bake, covered, for 1 hour, remove foil, turn ribs meaty side up, pushing them back under the onions, and bake for 1 hour longer.
Transfer ribs to a serving platter, leaving as much sauce as possible in the casserole, and tent ribs with foil.
Let the sauce sit for a couple minutes, then blot the surface with paper towels to remove as much grease as possible.
Taste, and adjust tartness and seasonings to taste.
Spoon the sauce over the ribs, and serve immediately.
If desired, remove leftover meat from bones, and save with sauce for use in barbecue sandwiches.
Serve with Cabbage and Daikon Slaw.