Red Hot Mayo and Tomato Sandwiches
gailanng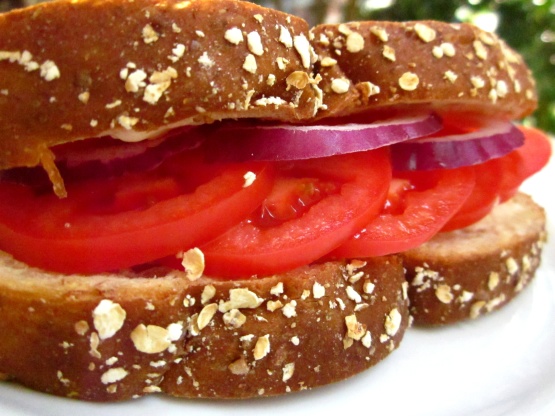 A mayonnaise and tomato sandwich is a Southern staple. The Deen brothers think a little heat makes it all the more appetizing. Adapted from their cookbook, Get Fired Up.

Sharon, this sandwich is so simple to make and loaded with flavor. Now that Christmas break is over and we are getting back into the swing of school, I was on the lookout for quick fix lunches that are still healthy. I thought for sure I would hear a complaint or two from at least one of my children about it being to spicy, or that they did not like it because there was no cheese etc... Instead I got a 5 star rating from all four! The only request that was made at the table was concerning the bread- I was asked if I would make it again soon using either my homemade whole wheat bread or a good crusty French or Italian. I used Franks Red Hot Sauce in place of tabasco as that is what I had on hand, cut back just a pinch on the cayenne pepper, and my tomato of choice was kumatoes because they have such a wonderful flavor for a store bought tomato. I am definitely not a fan of mayo, so I must admit I thought I would be leaving the sauce off of my sandwich...once I tried it though, I LOVED it. I plan on making up just the mayo to go on our burgers planned for next week. Thanks for the keeper. Made and reviewed for the 60th AUS/NZ Recipe Swap
3⁄4 cup mayonnaise

1

tablespoon hot sauce (use as much or as little as you like-Tabasco recommended)
1⁄8 teaspoon cayenne pepper

12

slices whole wheat white bread (or use plain white bread if you must or whatever bread you like)

1

medium red onion, thinly sliced (optional)

2

large tomatoes, cut crosswise into 1/4-inch circles
Whisk together mayonnaise, hot sauce, and cayenne in a small bowl.
Spread the mayo mixture over one side of each slice of bread.
Arrange the onion on 6 slices and top with the tomatoes.
Season with salt and pepper.
Top with remaining slices of bread and serve.
Enjoy!