An easy way to kick a jar of stuffed green olives up a notch. Cook time is marinating time.
Directions
Drain olives. Combine remaining ingredients. Pour over olives in jar.
Re-cap and refrigerate for at least 3 days, turning jar daily so spices will permeate.
Sprinkle with more crushed red pepper before serving, if desired.
Reviews
Most Helpful
I thought these were tasty but they didn't go over well with the family. Too bad for them. I used V8 bkz I was out of tomato juice. I would prepare these again and add the crused garlic mentioned by mickie49 (and invite different people to my party!!)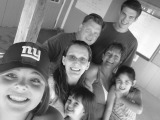 Absolutely stellar! My DH and his buddies are eating these like there is never going to be another olive and they must get their fill while they can! Cannot tell you how may jars of these I've made. I make 2 jars at a time--one I really heat up---adding pickled jalapeno slices, crushed garlic cloves and extra dried pepper flakes. The second jar I make according to the recipe for normal folks! Either way these are a huge hit! Thanks so much for posting this!
Loved this easy recipe. This recipe delivers a nice accent for a relish tray with minimal work. I drained the olives & then filled the jar. Shook it a few times everyday. The olives have a spicy taste, but aren't so hot they knock your head off. We have nibbled on a few with chesse cubes or with crudites. I had a 10oz jar & used a single serving size can of tomato juice. Everything fit perfectly in the jar. I will definitely be making these again!