Red Hot Edible Pepper Wreath
Rita1652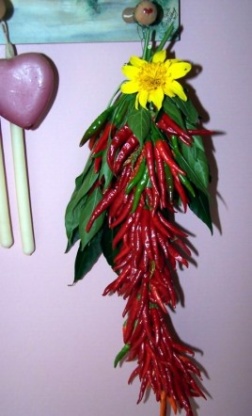 What a great way to dry your peppers to make pepper flakes, chile powder or keep whole to use as you want. below are amounts that are very flexible.

Amazing! it's so unique and the family is gonna love this one, we're all about spices!
20 -30

bunches chilies (1-2 with the leaves still on)

1

fresh edible flower (sunflower, yarrow....)
Take your first bunch and tightly wrap the wire around the stems.
Add an other bunch just over lapping so stems are just over each other and wrap again tightly.
You will continue till you used all the bunches or till you get to the length you are happy with.
Ending with the bunch that still has the leaves attached. Do arrange it so they are attractive to the eye.
Wrap wire around end leaving some to make a hoop to hang.
Place a flower where you would place a bow on a wreath.
Hang to dry in you kitchen with good circulation.
So it `s handy to use for whatever you need to add some spice to.