jenne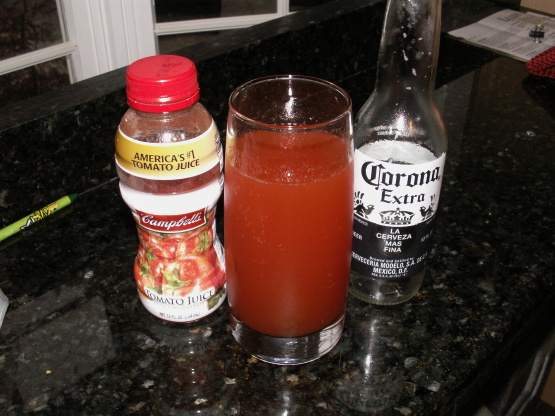 This is one my favorites. . .can't believe it wasn't already on here! Quite popular in South Dakota for sure. It's best with Bud Light, Coors Light, Miller Light, Old Style, Natural Light. This is a super versatile recipe; drink it as is, add in a little olive juice (call it a poor man's martini), or add a dash or two of Tobasco.

Ordered a Corona at a little hole in the wall Mexican food joint in Seattle not too long ago and this is how they served it. I wasn't expecting it, so it was a little weird at first, like when you think you're drinking tea and taste soda, if that makes sense. Once I realized that there was tomato juice in my beer, it was really good, and this is actually how I prefer lighter beers now. Thanks for sharing a great idea!
2

ounces tomato juice (you may increase to 4 oz if you like yours a bit thicker as I do)

12

ounces beer
seasoning salt (may sub celery salt)
twist lime (optional)
olive (to garnish)
Pour tomato juice followed by beer in a chilled mug.
Throw in a pinch of salt and a twist of lime (if using).
Garnish with olives and serve.