Simonich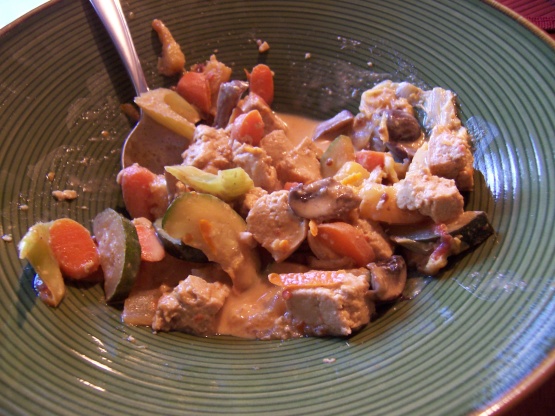 I like to make my own curry paste. This way I know that the compliments I get for my curries are entirely up to myself. The good thing is that the paste keeps for a couple of weeks in the fridge and can be frozen. The paste makes wonderful presents too. I give them away together with coconut milk, some kaffir lime leaves (I have my own plant), and some ideas how to use it. I also tell them that they can wrap whatever they won't use in tin foil and freeze. The recipe comes from Madhur Jaffrey's Curry Bible, a wonderful book. You will find coriander with roots in Asian stores, but don't worry if you can't find the roots, Madhur Jaffrey writes that you can use a small handful of the leaves instead. However, your paste then won't be as red as when using the roots. This paste is enough for two dishes of pork, beef, chicken, prawns, squid, fish, crabs, lobster meat or hard-boiled eggs.

Never have made red curry paste, i read all the reviews and went to the local farmers market for fresh lemongrass, tumeric and chilies, they were out of coriander root so I bought cilantro. I used the base recipe w/these additions: i put the chilies and water in the microwave, which absorbed the water so I added 5 TBLS more and covered to steam the chilies for 25 minutes...I roasted a red pepper (peeled, cored, seeded and chopped) & added the zest and juice of one lime when I put into my miniblender. I toasted all spices prior to adding to miniblender. Results: delicious! delicious! delicious! thank you for a great curry paste.
Soak the chillies in 5 tablespoons hot water for 1-2 hours. (You could also put them in a microwave oven for 2-3 minutes and then let them sit for 20-30 minutes).
Put the chillies together with their soaking liquid, into a blender, along with all the remaining ingredients in the order listed.
Blend, pushing down with a rubber spatula as many times as necessary, until you have a smooth paste.
What you do not use immediately should be refrigerated or frozen.