Red Curry Chicken With Basil
jrusk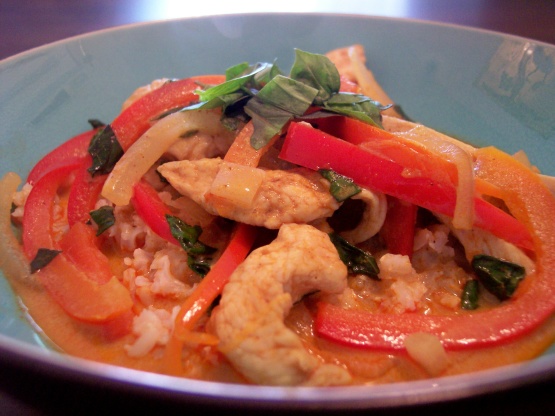 Top Review by jrusk
I use the TOT website too and was going to post this the way I make it. This is a great dish but it isn't Thai spicy if made as posted. We are glutens for punishment so I add two teaspoons (if not more) hot chili sauce instead of sugar. I also up the fish sauce to 2 tbls. and add thinly sliced onions. I use lite coconut milk... I wonder how much lower the fat content is? 40G is a bit scary, especially b/c I eat my curry with a spoon, lol. Great base recipe, glad you posted it!
Heat the oil in the frying pan over medium heat.
Add the Curry Paste and simmer for 2 minutes, so that it is dissolved, fragrant and foaming.
Stir in the can of the coconut milk. Cook over medium heat for 4 minutes, stirring occasionally.
Add the sliced chicken. Simmer for 4 minutes.
Stir in the sugar, fish sauce and bell pepper. Simmer until the chicken is cooked, about 3 minutes more.
Add the chopped basil. Season to taste with more sugar or Fish Sauce as desired.