Derf2440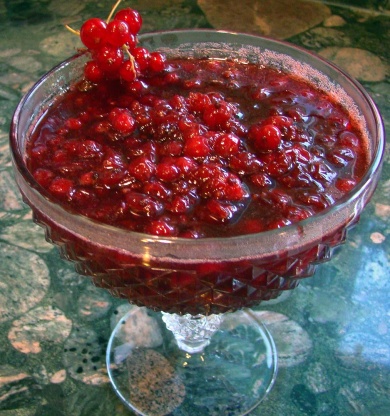 Recipe I came up with to serve with a chicken dish but I think it would be also suited to other poulty and game meats. I didn't use a great amount of sugar so the sauce retains a bit of tartness from the currants which was what I was after rather than anything too sweet. Note that it's quite a thin sauce rather than a thick one, aimed at things like rice and battered items that will soak it up, but you could always thicken it with cornflour.

Excellent! Served it over grilled pork chops. My husband usually doesn't like fruit sauces with meats, but he loved this. I had to tweak the measurements a bit. I used 2 cups of fresh currants, 1 cup of brown sugar, and 4 Tbs. of cider vinegar (since I didn't have malt vinegar). Not too sweet. Should still go well over vanilla ice cream. Next time (which will be next year, since that was my entire crop from my fledgling bushes), I may add red wine instead of vinegar.
Combine ingredients in medium saucepan.
Start cooking over medium temperature and lower after a while to maintain a gentle simmer, stirring occasionally.
I started with frozen currants and cooked for 25 minutes, I imagine 20 minutes would be sufficient for fresh currants and the first 5 minutes was more or less defrosting them.