Thorsten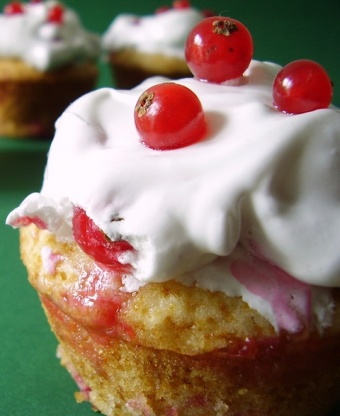 These are the most wonderful fruity summer muffins. I use red currants. Their more tart flavor make these muffins taste so fresh. The meringue topping melts in your mouth and the muffins are still moist. Serve them warm and the berries with all their juices will pop in your mouth.

I made these muffins in hope of a delicous fruiy treat, but instead I had the taste of an unpleasant greasy substance. Upon biting into these muffins, I cringed as my taste buds sensed the unusual extra oily flavour and texture. We are finding it hard to convince anyone to try them because of their odour. My balding father stated, "The meringue bit got stuck to my upper lip", a displeasing experience!
Grease muffin cups and place the in the freezer until use.
Preheat oven (360°F, 180°C).
In a bowl mix flour, baking powder, baking soda and currants; set aside.
In a large bowl beat the egg slightly. Add sugar, vegetable oil and buttermilk and mix thoroughly.
Add flour-currant mixture and stir just until combined. Batter will be sticky.
Divide batter equally among the prepared muffin cups. Bake for 20-25 minutes until golden brown and a toothpick comes out clean.
Meanwhile prepare the meringue topping. Beat egg whites and salt with a mixer on high speed until foamy and soft peaks are formed, then gradually add powdered sugar and beat until meringue is stiff. At last fold in the currants carefully.
When muffins are done, remove from oven. Spread the meringue topping on each muffin. Put the muffins back into the oven and let the meringue topping dry out for about 5 - 10 minutes. The meringue topping should be white or only slightly brown.
Remove muffins from oven and let cool down in muffin cups for 5 - 10 minutes. Then remove the muffins from the cups and serve warm or let cool down completely.
NOTE: You can replace red currants by black currants or other small berries.