BarbryT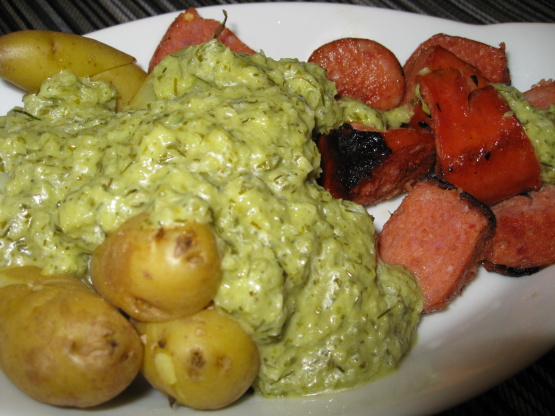 A wonderful Russian lemony-herby sauce served over hot boiled potatoes and served with grilled or sauteed smoked sausage. I got it from the woman in charge of the Piroshky "wagon" at the annual Seattle Folk Life Festival three years ago. Predominant flavors are lemon and dill. This is a work in progress and I welcome suggestions!

Made this two days ago after having it for the first time at Folklife in Seattle. When it was fresh, the flavors were too strong and the lemon too raw. Also, rhe consistency was too thin. After it aged a day in the fridge, it was perfect. : ) Also, I used a clove of fresh garlic instead of granules.
Rough-chop the scallions, cucumber and celery (neatness doesn't add points; it's all going into a blender). Chop the parsley and dill.
Combine the oil and lemon juice in a blender, emulsify it.
Feed in the vegetables and herbs. Then the seasonings.
Blend throughly.