Bergy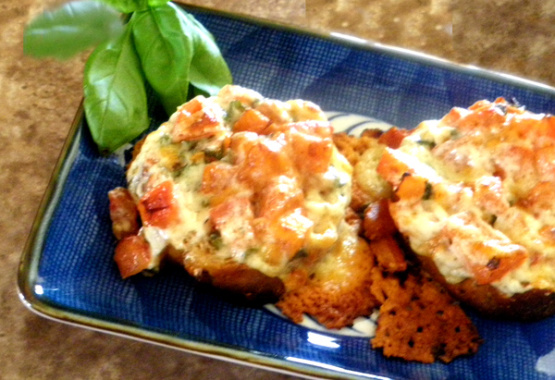 I played around with a recipe from another site and came up with this..... This recipe will impress upon your most outstanding guests. Add a nice Merlot or a crisp Reisling and enjoy an accompaniment that is most APPEALING!!! Can be used with Bruschetta Burgers as well....very good!!!

Top Review by Bergy
Really great combination of flavors. I only made 6 so cut the recipe back accoringly. The reason I took off 1 star was because the amount of moisture in the tomato mix seemed excessive. I thought it would make the bread soggy so I drained it off. I had the tomato mixture marinating for 2 hours ahead of time, at room temperature, so the total flavor was well encorporated.. The recipe did not specify dry basil and I happened to have some fresh so used 1 tbsp. I did not preheat the bread but baked it for 10 minutes with the topping then broiled it for 5 minutes. I used Havarti Light cheese MMmmm Dekicious appetizer. Will be making these again.
Combine the diced tomatoes, parmesan cheese, olive oil, minced garlic, seasoning salt (small amount to taste) I used approximately 1/8 tsp of seasoning salt, balsamic vinegar, basil,oregano, green onion.
Heat oven to 350 and gently warm sliced pieces of baguette for approximately 3 minutes.
Remove baquette from oven and place prepared mixture on slices and top with shredded mozarella cheese. Return to oven for approximately 5 minutes or until warm and mozzarella is melted.
Roll out the Red carpet and enjoy!