Red Cabbage Salad With Smoked Cheese
twissis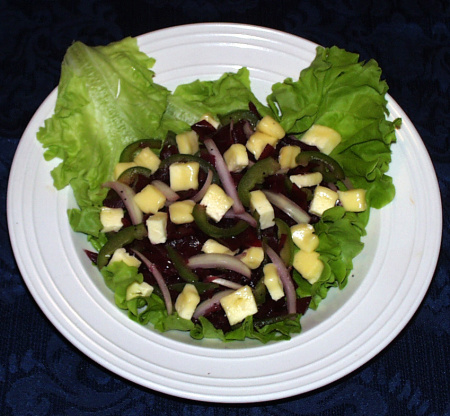 A German recipe in the 'modern' tradition. From A Taste of Germany.

I was selfish when I tagged this recipe as I love sweet & sour red cabbage, but DH does not care for it at all. I admit I was a bit surprised to see it paired w/cheese as that would not occur to me. I used my homemade pickled cabbage & could not find a suitable smoked cheese, so I used Camenbert & just placed it atop the salad mixture so it would not take on the red hue of the cabbage. This salad combines several distinctive flavors, but does it very well - a truly unique & tasty new salad favorite for me! Pls see my rating system & thx for sharing this recipe w/us, Ev. Edited to Add: A 2nd helping got me thinking about it & a 3rd convinced me to add a well-deserved 5th star! Yum!
Put the cabbage into a large bowl and toss in the sliced onion, green pepper and poppy seeds. Season to taste then mix in the oil.
Cut the cheese into small cubes and mix lightly in the bowl.
Line a platter with salad leaves and pile on the cabbage salad. Add croutons if desired.