Red Cabbage Salad With Apples, Raisins & Honey Dressing
Prep 20 mins
Cook 17 mins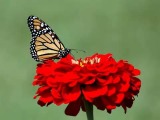 A recipe from the "With Love From Darling's Kitchen"cookbook. The author says that this salad can be served either hot or cold and is a good accompaniment to roast pork dishes.
Directions
In a Dutch oven, place cabbage, apple juice, and salt. Simmer mixture for 15 minutes. Add the apples and raisins and continue simmering until cabbage and apples are tender and most of the liquid is absorbed.
Stir together the vinegar, honey and oil until blended. Pour dressing over the cabbage and simmer mixture for 2 minutes or until heated through. Refrigerate until serving time. Serve warm or cold.
Reviews
Most Helpful
Excellent, easy to make salad! We loved it. I've only eaten red cabbage this way warm previously, but it's great as a salad. Thanks for sharing! Will make this again :)<br/>Made for For your Consideration Game.

We really loved this dish. Very easy to make. Made it for your Football win and an early Octoberfest for us!

This is great. I made a variation of it once and it was great warm or cold. I think I used mandoline thinly sliced red onion and similiarly thinly-sliced cabbage, plumped raisins,julienned apple, honey & cider vinegar. Was terrific hot or cold the next day.