Red Cabbage Salad with a touch of Asia
Lusenda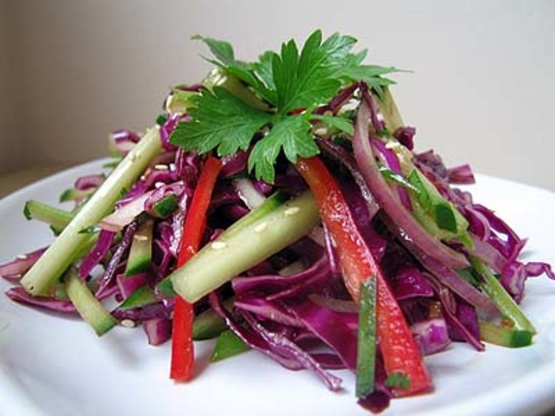 Who would think healthy could taste so good. Bright in flavor and looks! Crispy! If you want a thicker dressing add 1 more tablespoon peanut butter. Great for a light lunch or a side to a main meal.

I liked this very much - the dressing flavour combo is a favourite of mine. I felt the amount of oil was pretty high, which is about the only thing I would change. And well, I did....I cut back on the oil and the vinegar by about 1/3 - and that was fine because I was missing some of the veg this salad called for anyway. This is one of the best ways to enjoy raw cabbage - thanks Rita!
Put all salad ingredients into a bowl.
Into a blender add all of the dressing ingredients and blend till creamy smooth.
It will be on the thin side.
If not using rice vinegar use less of what you do use because I find rice vinegar is milder.
Add to salad and toss to coat,chill till ready to serve final toss& then top with seeds and serve.