Debbwl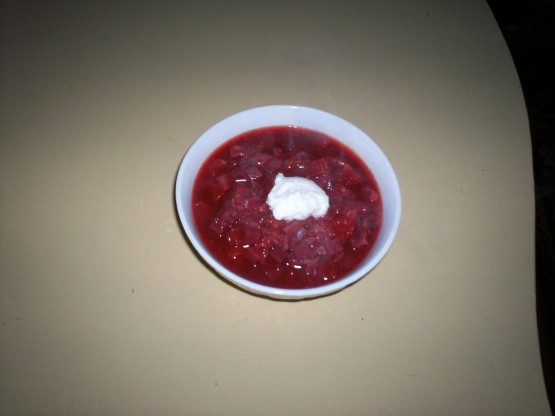 This recipe differs slightly from the one already posted here, so I thought I would add it. I got this recipe 20 years ago, from a girl I used to work with. This makes a really "yummy" borscht (and I am usually so-so on the subject!)

Top Review by Debbwl
A very nice Borscht. Made using Pam cooking spray in place of the butter. The red wine vinegar I used was a cabernet sauvignon wine vinegar. While a very nice soup felt it was lacking something. Ended up adding another teaspoon of dill and that helped. Will be making this again. Thanks for the post.
Drain the beets, saving the liquid. Cut the beets into strips.
In a large saucepan, melt the butter & cook the onion until softened.
Add the garlic and cabbage; cooking & stiring until the cabbage is wilted.
Add the beets and the reserved liquid, tomatoes, water, vinegar, stock, sugar & dillweed.
Cover and simmer for about 30 minutes or until the cabbage is very soft.
Season with salt and pepper to taste. Serve & garnish with sour cream, if desired.