Red Cabbage and Sausage Soup
Patti C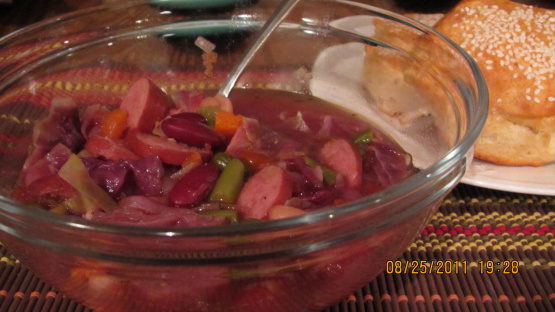 A hearty red soup with kielbasa, cabbage and lots of good flavors. Even better the next day.

Very filling, yummy soup. We had some red cabbage in the garden we needed to use up and couldn't find a recipe that didn't use vinegar and/or apples that left a "pickled" taste. This one sounded perfect. We added a can of dark kidney beans and a can of mixed veggies for a little more color and variety but otherwise made as directed. Will make this again.
Chop the cabbage into 2 inch chunks.
Cut the kielbasa into coin size pieces.
Chop the vegetables (green pepper and onion).
Drain the beans and rinse.
Brown the sausage, peppers, onions and garlic in a large soup kettle.
Add the tomatoes, beans, seasonings and chicken broth and mix well.
Add the cabbage and cover the kettle and cook on medium heat until the cabbage starts to wilt.
Turn the heat to medium low and simmer with the cover on for 45 minutes to an hour.
When the cabbage is tender and the flavors have blended to your taste serve with a rustic bread and enjoy!