Red Cabbage and Romaine Coleslaw with Blue Cheese Dressing
Ms B.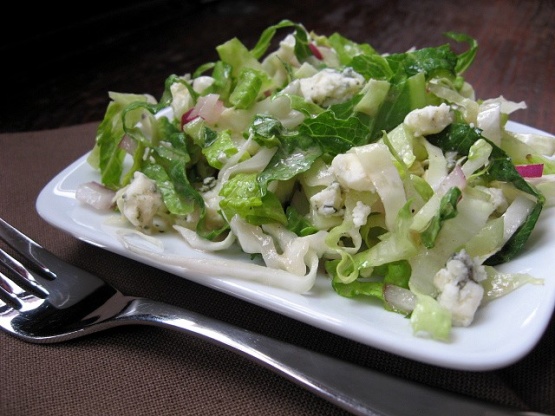 I love blue cheese; and this dressing doesn't have the rich mayonnaise to make me feel guilty about eating it. A very pretty salad.

Top Review by Ms B.
I took great liberties with this salad because I don't have the red cabbage named in the title. I subbed green cabbage that I had on hand, and to perk up the colors, used finely diced red onion instead of the green. I love bleu cheese, and the dressing for this salad really does showcase that flavor. I paired it with Recipe #85489 for an easy dinner. I have posted a photo, but I am sure that with the proper red cabbage, the salad would be very striking.
Slice the romaine into thin ribbons.
Slice the red cabbage as thin as you can.
Toss together in a salad bowl; cover and refrigerate until serving time.
Whisk the remaining ingredients, except blue cheese, in a bowl, until well combined.
Fold in the cheese.
The dressing can be made several days in advance.
Dress the slaw just before serving.