Redsie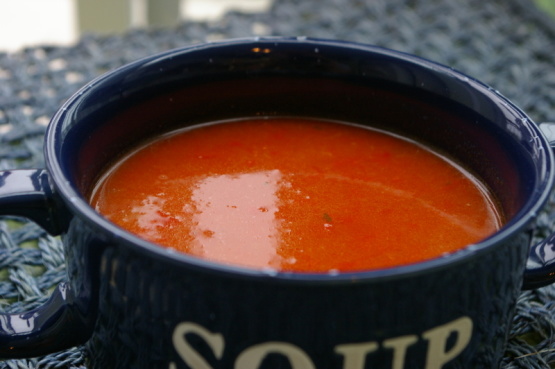 This one doesn't use roasted capsicums, but it is delicious. I make it every year and freeze it. I have made it with red, yellow and orange capsicums, they all have a slightly different taste. All good.

This was really nice. I had exactly 3 peppers I wanted to do something "different" with. I really liked the addition of cumin. I also had some cilantro and a little garlic powder that I pureed along with the peppers/onions all in the same pot. It added another wonderful level of flavor to the finished soup. This would be really nice alongside a grilled sharp cheddar cheese quesadilla! Thanks for sharing!
Melt the butter in a (3 Qt.) saucepan over medium heat. Add the bell peppers and onion.
Cook, stirring occasionally, until the onion is soft but not browned.
Mix in the cumin and cayenne. Add the chicken broth.
Bring to a boil.
Cover.
Reduce heat. Simmer for 20 minutes.
Scoop out the vegetables.
Transfer the vegetables to a blender or food processor.
Add a little broth.
Process until smooth.
Return the puree to the broth in the pan.
Mix in the lemon juice. Adjust seasoning.
Reheat to serving temperature. Serve hot. Cheers Doreen Doreen Randal, Wanganui.
New Zealand.