Boomette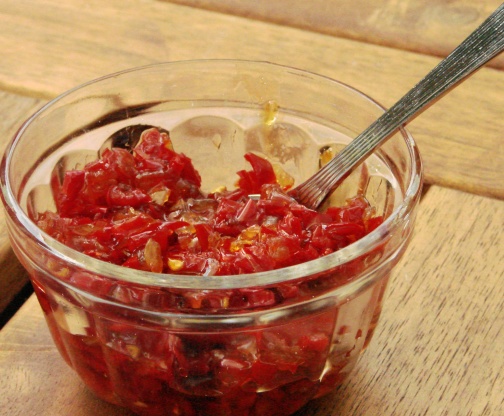 I recently bought some Mezzetta Zesty Bell Pepper Relish and was pleasantly surprised how good it was. In my attempt to find a recipe so I could make my own, I stumbled across this tasty one. Not the same, but still so very good with a hint of heat. This won a secret food bloggers secret ingredient contest for a recipe using red bell peppers. I hope you enjoy! Adapted from a food blog, savory and sweet. Thank you Alice!
This relish is so good. I had a little bit with my steak and it was so yummy. It's sweet but also spicy. I used 1/2 tsp of red pepper flakes. I wanted it spicy and it's perfect. I used 1/3 cup sugar and 1/3 cup splenda and it worked out great. I let it at medium-low heat longer than 20 minutes. But I stirred often. It's very easy to do after the pepper and onion are chopped. Thanks Sharon :) Made for ZWT8 for Diners, Winers and Chives
1 red bell pepper, chopped in small pieces (or any other type of bell pepper) 1/2 onion, diced fine 2/3 cup sugar 1/2 cup white vinegar (or apple cider) 1/4-1/2 teaspoon red pepper flakes (if you like less heat, use 1/4 tsp. If you like more heat, add 1/4 tsp.)
Add everything to a small sauce pan and mix until well incorporated.
Cook the relish on medium heat for 5 minutes and turn down the heat to medium-low(or low) for an additional 20 minutes, stirring occasionally until most of the liquid has reduced.
Remove from heat and allow to cool before serving.
Note:.
The relish needs to be cooked on a low heat, so stir frequently and reduce time if necessary. This recipe will keep quite awhile in the fridge and you may multiply the recipe and can it if desired.