Red Beans Served With Rice
Nimz1466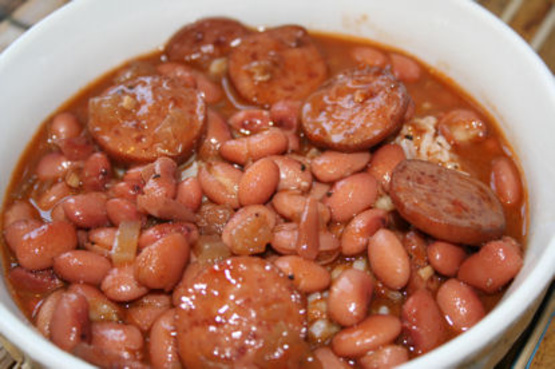 This is a good comfort food and is better 2 or 3 days later. Serve over a bed of rice and some good garlic bread.

Excellent Red Beans and Rice. I've never tried this before but the 2 adults that I made this for that have said this was excellent. I let mine simmer longer but other than that didn't change a thing except to serve with cornbread instead of garlic bread. Thanks for sharing. Made for PAC Fall 07
Soak beans over night or quick soak according to the package.
Add beans to 6 cups of water.
Add all seasonings and sauage.
Bring to a rapid boil, and reduce heat to a medium simmer.
Cover, stirring occasionally for 1 to 1 1/2 hour, or until beans or tender.
Remove bay leaves.
If you have a lot of juice and want it thicker:.
Add 1 tbl flour to 1 cup of COLD water and whisk together.
Pour in beans slowly will stirring.
Cover and simmer 10-15 minutes.
Serve over rice with some good garlic bread.