PaulaG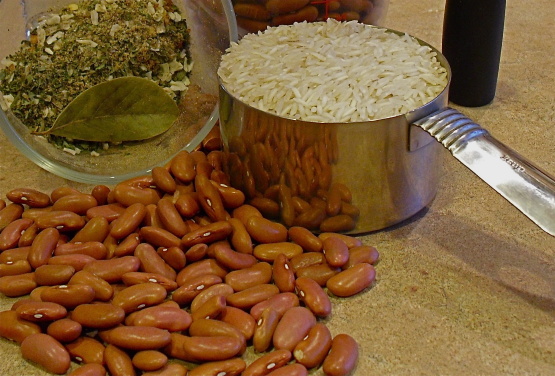 This is from TOH. It gets its spark from cayenne pepper and crushed red pepper flakes. You can use containers or decorated holiday bags with a small bow to give as gifts. Prep time does not include cooking time.
Top Review by PaulaG
I loved this idea and think it will make a wonderful Christmas gift accompanied with Recipe #167160. The mix fits perfectly in a 2 quart jar for gift giving. Once I have actually cooked the beans and rice, I'll be back to update my review. Made for *PAC Fall 2009*
Combine first 10 ingredients and place in ziploc containers. Place beans and rice into separate containers.
TO PREPARE: Place beans in a Dutch oven or soup kettle. Add water to cover by 2 inches. Bring to a boil and boil for 2 minutes. Remove from heat and let stand 1 hour.
Drain beans. Return them to the pan. Add seasoning mix, 2 12 cups water and ham hocks. Bring to a boil. Reduce heat, cover and simmer 1 1/2 hours.
Remove ham hocks. cut meat into bite sized pieces and return to pan. Add sausage. cover and simmer 30-40 minutes until beans are tender and sausage is heated through. Remove bay leaf.
Meanwhile, combine rice, salt and remaining water in a saucepan. Bring to a boil. Reduce heat , cover and simmer 20 minutes or until liquid is absorbed. Remove from heat and let stand 5 minutes.
Spoon into bowls, top with bean mixture. Garnish with parsley if desired.