gailanng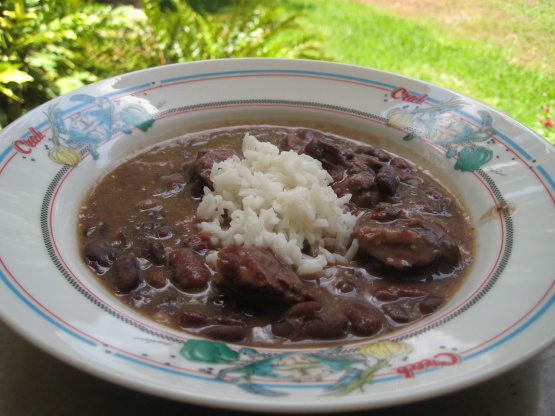 This is a good recipe that is inexpensive and can be manipulated to have less salt; i.e., you can make the red beans from dried ones rather than canned, and you can substitute no-salt chicken bouillon powder for regular chicken stock. If using dried beans, you only need to cook up 8 oz of them rather than the full 1-pound pkg. I used the dried beans; I started at 2:30 and did not eat until 6 PM. This recipe comes from The Columbus Dispatch.

I made this the first time because the ingredient lists and sodium counts for the boxed stuff scared me. I%u2019ve made it a dozen times since, using the dried bean method, because it%u2019s absolutely fabulous.
8

ounces reduced-fat smoked turkey sausage
1 1⁄2 cups chopped onions
1 1⁄2 cups chopped green peppers
1 1⁄2 cups sliced celery
1⁄2-1 jalapeno, minced

2

teaspoons minced garlic
1 1⁄2 teaspoons dried thyme

2

(15 ounce) cans red beans, drained and rinsed (or 8 ounces of dried beans sorted, soaked and cooked per package directions, then drained)

1

(14 1/2 ounce) can chicken broth

3 -4

dashes Tabasco sauce

4

cups hot cooked rice
Slice sausage, then cut into quarters. Cook it in a large saucepan until well-browned for 5 to 8 minutes. (I added about one tsp of oil so that it would brown nicely).
Add all the vegetables, including garlic, and saute until they begin to brown, about 10 minutes.
Stir in bay leaves and thyme. Cook 1 or 2 minutes more.
Add beans to pan. Using a potato masher, mash about one-fourth of them. Add chicken broth. Bring mixture to a boil. Lower heat and simmer, uncovered, for about 15-20 minutes until vegetables are tender and sauce is thick.
Discard bay leaves. Season to taste with Tabasco, cayenne and black pepper. Serve over rice.