CindiJ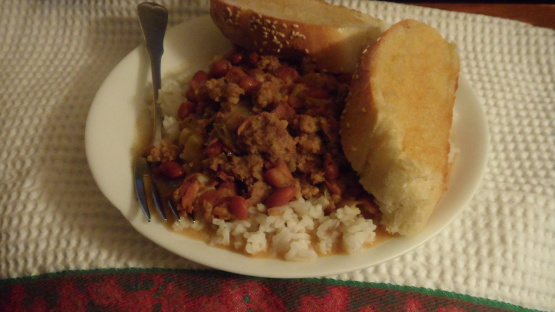 My mother made this for a birthday celebration several years ago. It's now become one of our family favorites. It really sticks to the ribs! We serve with homemade French Bread and the infamous California Salad...YUMMMM Please note: prep time does not include the soaking of the beans. *Edited to update: I use bulk sausage for this recipe. If you do purchase links, remove the casings and place the links in whole.

Oh My!! This is a wonderful recipe! I started soaking my beans last night so I would be ready to continue the recipe this morning. I continued the recipe at 8 AM and expected to have to allow the pot to simmer all day, but by 12:30 PM all was tender and ready to eat! This is a great recipe to have on hand when you have a ham bone to use! The sauce the very flavorful and perfect for our taste,and just a bit on the spicy side, depending on the type of sausage you use. I will allow my diners to add their own hot sauce to taste! I am really going to enjoy having this recipe, Cindi! Thanks so much for sharing : )
Soak beans as directed on package. Drain the beans and place in large stock pot. Cover with the 2 quarts water. Add ham bone and sausages, onions, green pepper and seasonings.
Cover, lower heat and simmer several hours.
Mash some of the cooked beans against the side of the pot to produce a thick creamy sauce.
Cook 2 more hours over low heat stirring occasionally.
Season with Red Pepper Sauce to taste.
Serve over cooked rice.
The bean mixture can be frozen either in single servings or family style for future use. I have frozen individual servings with rice and this works great. Adjust the heat levels with additional peppers or pepper sauce according to your tastes.