Tona C.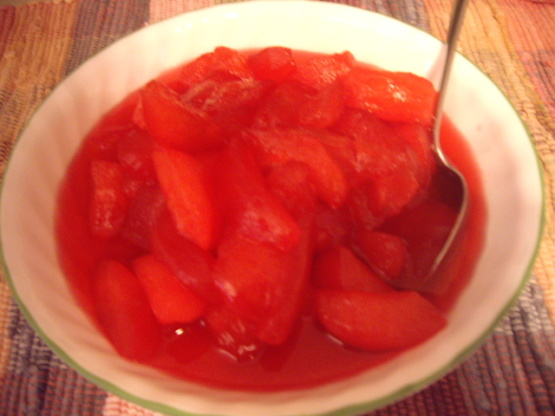 This has been a family favorite for years and makes a colorful side dish on any holiday menu. Red Apples look pretty served in a cut-glass bowl. From the kitchen of Wanda Cupp Thornburg, Moberly MO.

Thank you so much for posting this. My "Nana" used to make what we called "Red Hot Pears" when I was little. Unfortunately, the recipe was lost with her. I was so sad I couldn't find a recipe for pears, but then I came across this, and it worked perfectly. We like these warm too. Also great with vanilla ice cream. Yummy...and very nostalgic for me!
1

cup sugar
1⁄2 cup water
1⁄3 cup red cinnamon candies (red hots)

5

medium red apples, pared and sliced into six pieces
Bring the first three indgredients to a rapid boil in a large saucepan or dutch oven. Boil for 5 minutes, stirring constantly to prevent boiling over, sticking, and to help melt the candies.
Reduce to a medium heat and place the apples (peeled side down) into the hot syrup. Cook until done or about 15 minutes. They will fork tender -- don't overcook or you will have red applesauce! Cool and serve. We think they are best chilled overnight.