Red Apple, Onion, and Cabbage Salad
Rita1652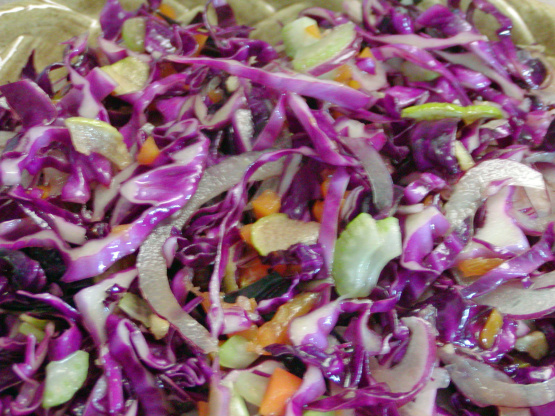 Try this Irish salad for Good Old St.Patty's Day!To make this quick make it in a food processor.

Made this for St. Patty's day, but it really didn't go with the other Irish food (Irish soda bread, Irish Stew, etc) It was very pretty and also very good; however, it was definitely ASIAN not Irish. I think the directions could be written more coherently as well. I give it four stars because it tasted great and I do plan to bring it to summer get-togethers - makes a huge amount, I'd say it serves at least 12-16 as a side dish. However, I wouldn't advise others to make this for St. Patty's day and the directions aren't very clear.
In a large bowl, rice vinegar,olive oil, sugar, horseradish, red onion,celery, and ginger.
Add cabbage,apple and soy to taste mix well.
Sprinkle with scallions.