Red and Yellow Watermelon Salad
BecR2400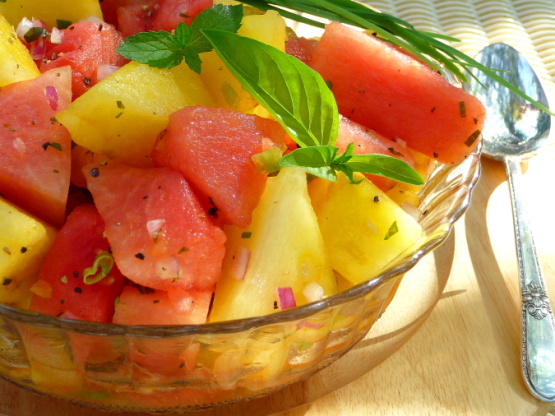 Easy to make; sweet and refreshing! I used two varieties of watermelon-seedless red and seedless yellow! Fresh mint from the garden, too! For the fruit-flavored vinegar, raspberry flavor was used. From Quick and Simple magazine with a few minor changes.

Five stars! This salad is so delicious and refreshing--perfect on a hot summer's day!! I used white wine vinegar as that is what I had on hand, and fresh herbs from my very own garden. All of the flavors complimented each other beautifully! Made for 5 A Day in the photos forum. Thank you, Cookgirl, for a wonderful recipe!
In a large salad bowl, combine the watermelon cubes, scallions and red onion.
In a small non-reactive bowl whisk together the vinegar and olive oil. Season with salt and pepper to taste.
Pour the vinaigrette over the melon mixture. Add the herbs and toss gently to coat.
Cover and refrigerate 1 hour.