Red and Yellow Heirloom Tomato Platter With Balsamic Vinaigrette
BecR2400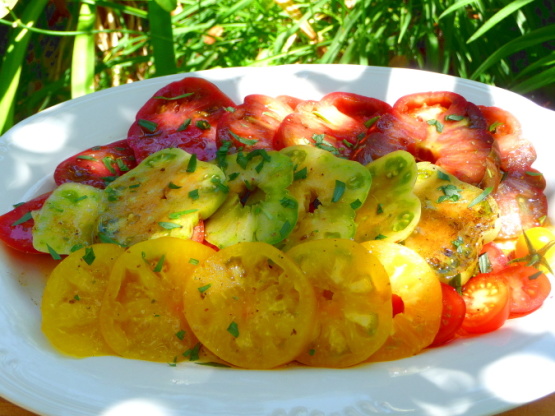 Summer on a platter! This salad is lovely in it's rustic simplicity. The tarragon adds a delicate anise note, different than the usual basil and tomato combination. Just add crusty chunks of bread to soak up the aromatic dressing, it's practically a meal in itself. Enjoy...
Arrange the tomato slices in an overlapping single layer on an attractive platter.
Drizzle evenly with vinegar, then with the olive oil. Sprinkle with salt and pepper, and garnish with freshly snipped tarragon or parsley.
Let dish stand at room temperature for about 15 minutes to allow the flavors to meld.