Red and White Prawns (Shrimp) With Green Vegetables (Yuan Yang X
KateL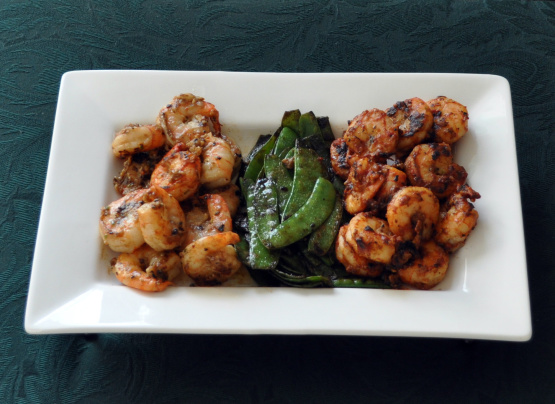 This is from a recipe book I recently bought entitled Chinese Cooking Made Easy. They describe the dish as follows "The Chinese name for this dish is Yuan Yang Prawns (Shrimp). Pairs of mandarin ducks are also know as yan yang, or love birds, because they are always seen together. The often symbolize affection and happiness." This dish is usually part of banquet. Times are estimated.

Top Review by KateL
Love at first bite! I would label this a "proposal" dish -- a proposal would surely come after being served this dish. DH liked both styles of prawn, but preferred the spicier one (me, too). However, the "blander" one was quite excellent, too! This is the first dish I wok'ed on my Capital Culinarian, and I learned that I have to rethink all wok cooking times if I use the power of my range (which would sear and not sweat the food, like a true commercial wok). The wok ring I bought from Capital keeps the wok steady, but also makes sure that the gas flames cover the greatest surface of the wok. For our healthy appetites, this recipe might serve 3. DH and I had no problem wolfing down 100% of the product. This goes straight to my A-1 Rotation cookbook. Divine! Made for Summer Photo Tag game.
Peel and de-vein the prawns (shrimp) and mix with the pinch of salt, the egg white and the cornflour (cornstarch) past.
Top and tail the snow peas (mangatout).
Heat about 2 to 3 tablespoon of the oil in a preheated wok and stir fry the snow peas (mangetout) for about 1 minute and then add the salt and sugar and continue stirring for another minute, remove and place int he centre of a serving platter.
Heat the remaining oil, par cook the prawns (shrimp) for 1 minute and then remove and drain.
Pour off the excess oil, leaving about 1 tablespoon in the wok and add the spring onion and ginger to flour the oil.
Add the prawns (shrimp) and stir-fry for about 1 minutes, then add the soy sauce and wine or sherry and blend well and place about half of prawns (shrimp) at one end of the platter.
Add the chilli bean sauce and tomato puree (paste) to the remaining prawns (Shrimp) in the wok and blend well and then place the red prawns (shrimp) and the other end of the platter and serve.