Red and Black Bean Pies (With Polenta)
Annacia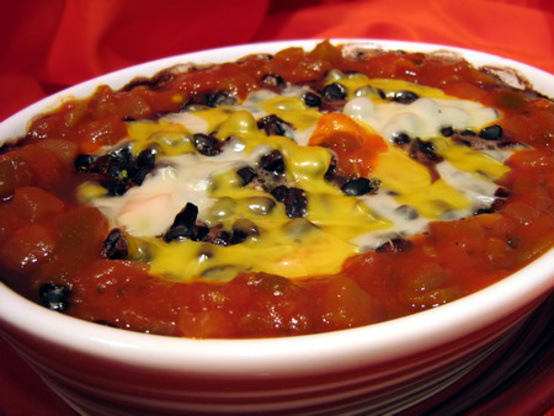 Tasty dinner that freezes well. 1 lb of ground beef or turkey can be added if desired but this makes a wonderful meatless meal. Looks really good if you bake individual pies in ramekins but tastes just as good in pie plates as well and is easier to clean so that's how I usually do it. Also since there is only three of us, I bake one pie plate for dinner and freeze the other for another night. Works great! Be careful not to overbake or this dish will dry out!

I enjoyed this a lot. I made the polenta and used just black beans with fat free cheese subbed for the full fat. The beans and polenta were very nice together and I used Cajun spice just because I thought it would be good. It made a simple and healthy supper. I recommend that the hot sauce be used and the salsa adds a very nice note. I made 2 servings and baked it in one dish. Thanks for this one Little Wing.
Preheat oven to 400.
Heat 1 Tbs oil in large saucepan over med. heat.
Add white part of scallions and garlic.
Season with salt and pepper.
Cook until softened, stirring constatly, 2-3 minutes.
Add beans, tomatoes with juice and 1/2 cup water.
As you bring to a boil, mash about 1/4 of the beans with the back of a spoon against side of pan to release starch.
Reduce to a simmer, cook until mixture has thickend, 10-15 minutes.
Meanwhile, brush 8 10-12oz ramekins or custard cups with remaining oil. Or you can use 2 pie plates. Each ramekin serves one, each pie plate serves four.
Slice polenta into 8 rounds and place one in each ramekin. If using pie plates, slice into 16 rounds and place 8 in each pie plate.
Remove bean mixture from heat.
Stir in green part of scallions, silantro and hot suace and season with salt and pepper.
Spoon mixture into ramekins, or spoon over polenta slices in pie plates.
Top with cheese.
At this point, you can freeze the unbaked pies. Let cool completely and cover with foil. Then freeze for up to 3 months.
Bake at 400 15-20 minutes.
Let stand 10 minutes before serving.
If desired, garnish with cilantro and serve with salsa.
If frozen, no need to thaw before baking: Bake frozen and foil-covered 60-70 minutes if in ramekins and 70-80 minutes if in pie plates.
Remove foil and bake until cheese is golden brown, about 15 more minutes.